The iF design award recognizes the 10 best interior architecture projects
at the annual iF design awards party, held this year at the bmw shopping center in munich, a host of successful interior design projects were celebrated at this prestigious event. iF CEO ralph wiegmann presented the coveted trophies in front of more than 2,000 guests from a multitude of businesses, agencies, cultural institutions and the media.
of the 345 programs submitted by the discipline, 96 received an award bearing the iF label, while ten specially chosen projects were shortlisted for the organization's highest honor – the iF Gold Award. although the submissions cover a range of different categories, seven of the ten works are either from the exhibitions and trade shows category or from the classification of shops and showrooms.
from corporate architecture to exhibition stands, the jury took into account evaluation criteria, such as tasks and objectives; quality of architecture and design; the quality of the implementation and the details; choice and use of materials; spatial concepts and atmosphere; functionality and flexibility of use; business design; and environmental sustainability.
"Nowadays a jury has to be very international – only in this way can we handle the wide variety of international parameters of submissions", explained the chief juror fritz frenkler. "It is striking that, in every design discipline, it is very tempting to go for the design references of the corresponding branch, without daring to do something new, which is unfortunate. in general, we try to slow down developments. this way we can once again focus on what is really important in the design – like creating products and interfaces that are easy to understand and intuitive to use, creating a product DNA as well as specifying it in the CD of the company, thus distinguishing the company from its competitors.
as the award continues to expand and diversify, from april 2015, the iF design awards welcome projects that fall into the brand new "architecture" category. scroll down to see each of the award-winning nominations in the interior architecture discipline of the iF design award.
(main images and above) cultura bookstore by studio MK27 (shops / showrooms)
all images are courtesy of iF design award
cultura bookstore by studio MK27: a bookstore with a meeting place. this was the main premise of the architectural project of the bookshop livraria cultura in iguatemi. more than just a place to shop, the store invites you to stay and go out. thus, we sought to ensure that visitors not only find a book they might be looking for, but rather stay there. the books encircle the space, supported by eleven large tables arranged orthogonally in the large room and on white supports in the peripheral areas. these shelves have integrated LEDs and delimit the space like a cube covered internally with books.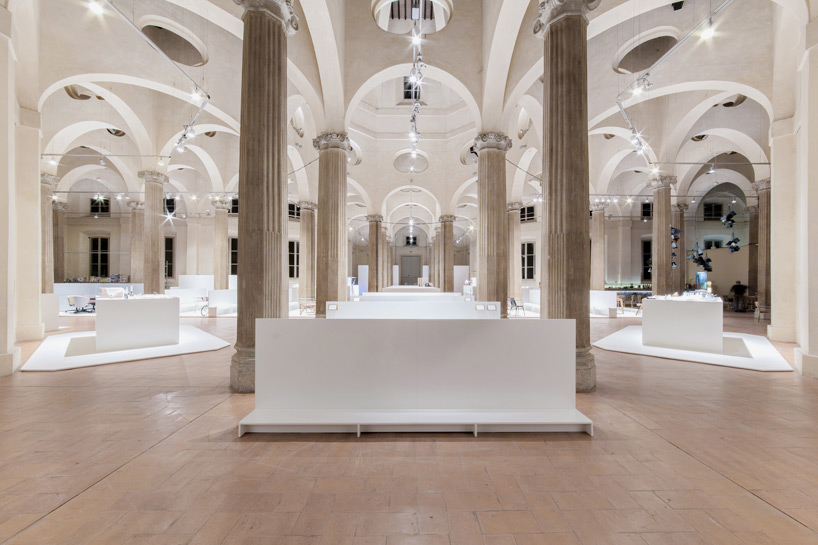 confession of design by vasku & klug (exhibitions / fairs)
design confession by vasku & klug: confession of design was the 2014 edition of the austrian contemporary design exhibition at the salone del mobile in milan. located in a former church, the concept of the exhibition was to respect and use the sacred atmosphere of the place. this ensured that the exhibits did not compete with the site, appear out of place, or get lost within it. otherwise the show ironically referred to the design that the pilgrimage to Milan evokes each year. religious elements inspired both the architecture of the exhibition and all the complementary media productions. curatorial selection itself was a search for potential legacies.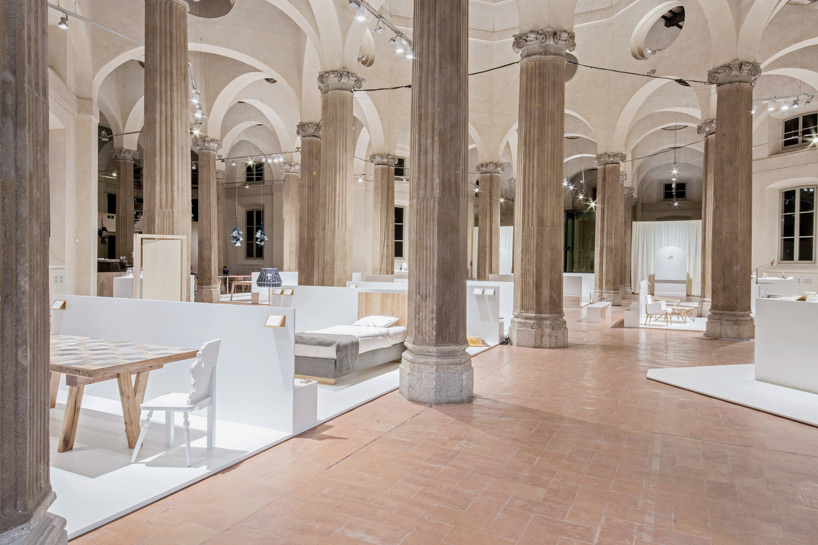 confession of design by vasku & klug (exhibitions / fairs)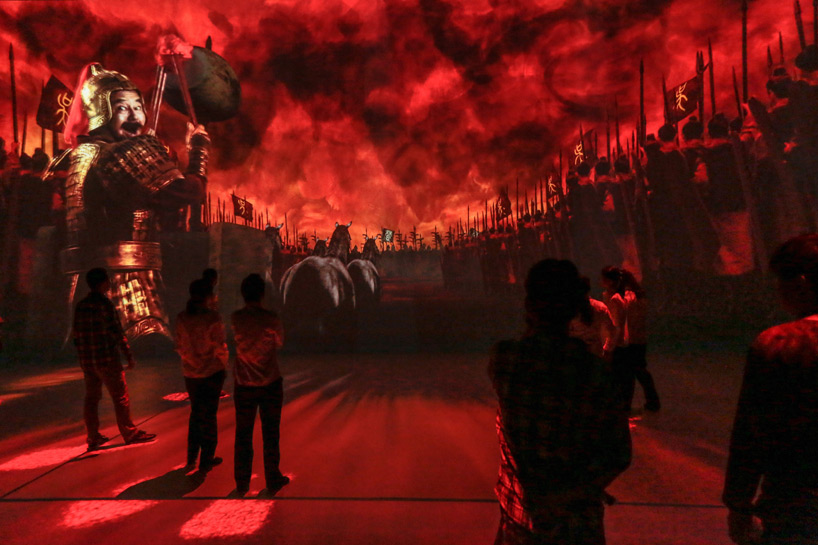 time machine by tamschick media + space (installations)
time machine by tamschick media + space: Wu Helv Kingdom Relics Museum: The 400-square-meter interactive audiovisual installation immerses visitors in a 15-minute story spanning 2,500 years of Chinese history. unique visual style combines cinematic martial arts scenes with paint-style animations. linear storytelling is enhanced by interactive elements that reinforce the visitor's sense of being transported back in time, away from the ascent of the wu realm in spring and autumn. a complex network of projectors, computers and tracking cameras generate real-time graphics and mix them with pre-produced footage. to enhance the immersive experience, the walls are completely covered with mirrors.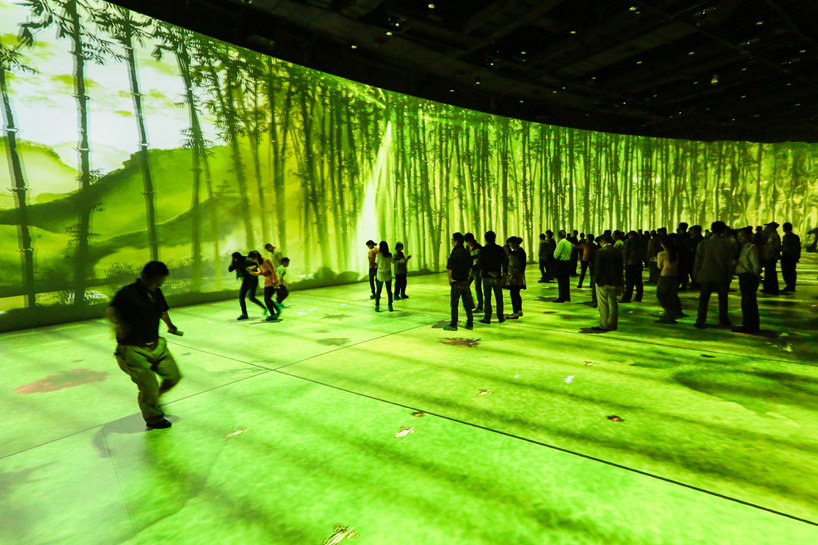 time machine by tamschick media + space (installations)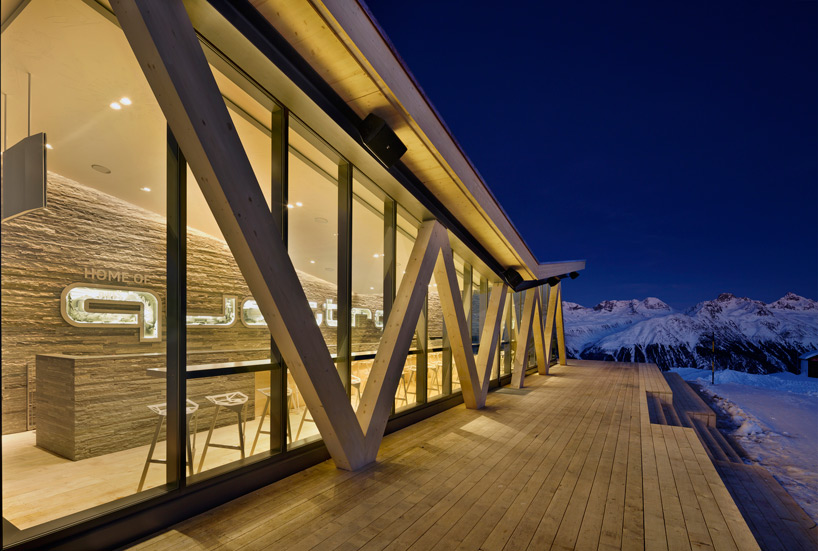 audi quattro bar by schmidhuber (hotels / spas / restaurants / bars)
audi quattro bar by schmidhuber: the exclusive audi quattro bar has just opened, directly in the corviglia ski area at 2,486 meters above sea level. the traditional concept of an alpine ski chalet has been reinterpreted in an exciting and new way – an invitation to enjoy the quattro lifestyle in extraordinary surroundings. branding and art, fire and ice all come together in a timeless symbol for unlimited freedom. original materials, a clean design and clear communication of the brand's message are the center of attention. a striking eye-catcher is provided by the 10-meter-long quattro lettering, a 3D relief inserted into the elegant granite walls.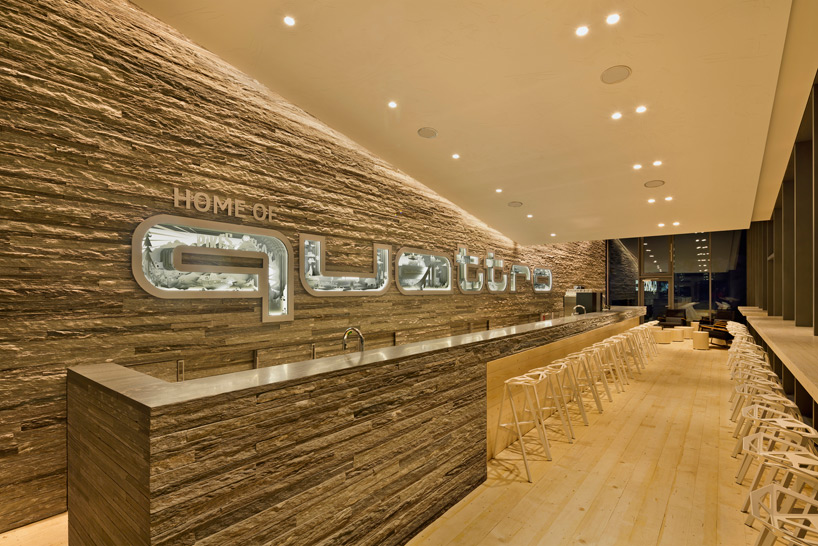 audi quattro bar by schmidhuber (hotels / spas / restaurants / bars)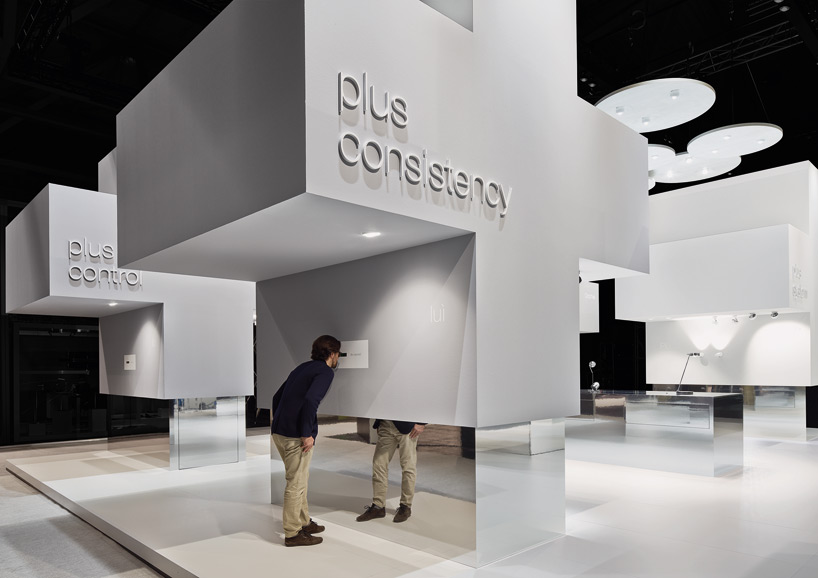 occhio evolution plus by martin and karczinski (exhibitions / fairs)
occhio evolution plus martin and karczinski: every two years, the essence of the occhio brand – 'light is evolution' – is reinterpreted at light + building. nine plus signs convey the brand's current messages – key issues such as quality, design and sustainability are referred to by titles such as "more design", "more light quality" and "added value" on plus signs. with its daring concept, the stand, divided into a brand level and a product level, stands out in a good sense. thanks to a spectacular and original design, the salon concept lets the brand and its values ​​speak for themselves, and not just the product itself.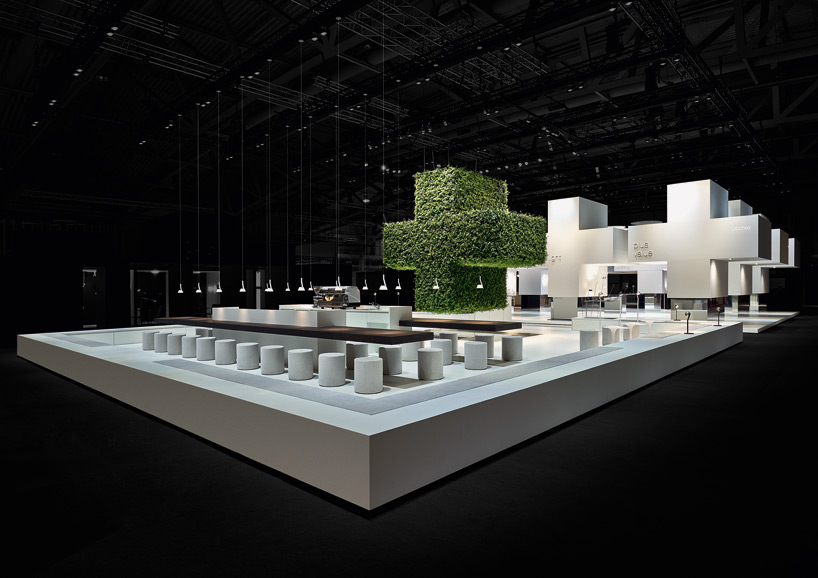 occhio evolution plus by martin and karczinski (exhibitions / fairs)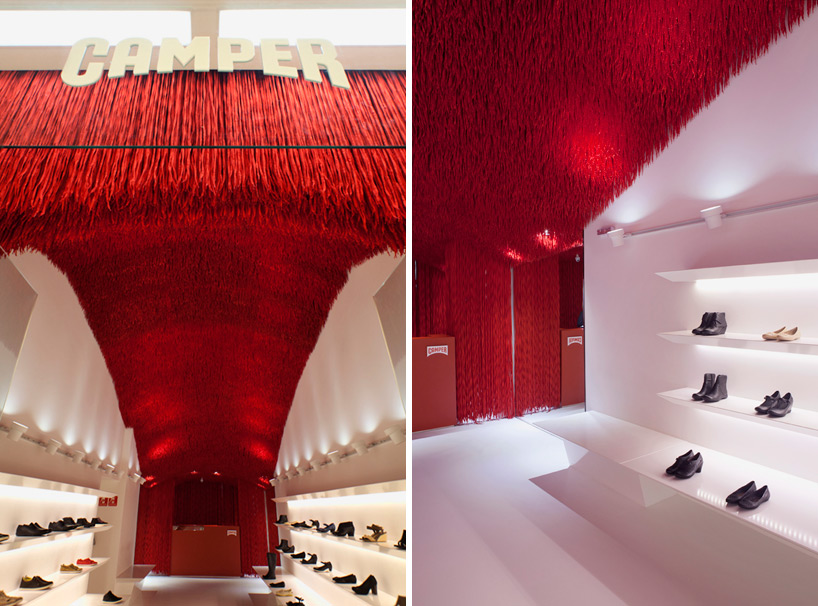 Camper store by atelier marko brajovic (boutiques / showrooms)
motorhome shop by atelier marko brajovic: for our first motorhome project, we found our inspiration in traditional Brazilian folk festivities, where engaging environments are created by dense layers of colorful stripes. using this strategy, we used laces to model different shapes that implement in our space a sensitive and scenographic experience, where visitors are the actors of everyday life.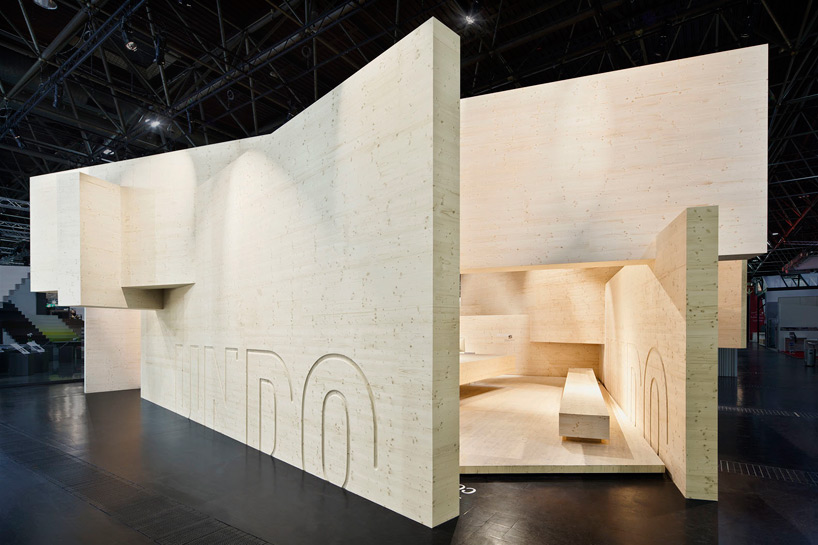 undo by d'art design gruppe (exhibitions / fairs)
cancel by art design group: for the eighth consecutive time, d'art design gruppe must organize its own appearance on the euroshop. this year's motto on the big brand's 247 square meter world is "undo" and visualizes the design process by means of media exhibition space. the exhibition is integrated into a spacious wooden architecture of oversized wooden building stones, which visualizes the design process with its playful elegance. inside the wooden architecture, visitors can virtually experience and experience design milestones. Last but not least, visitors can experience the make-and-undo interaction using thousands of wooden building stones.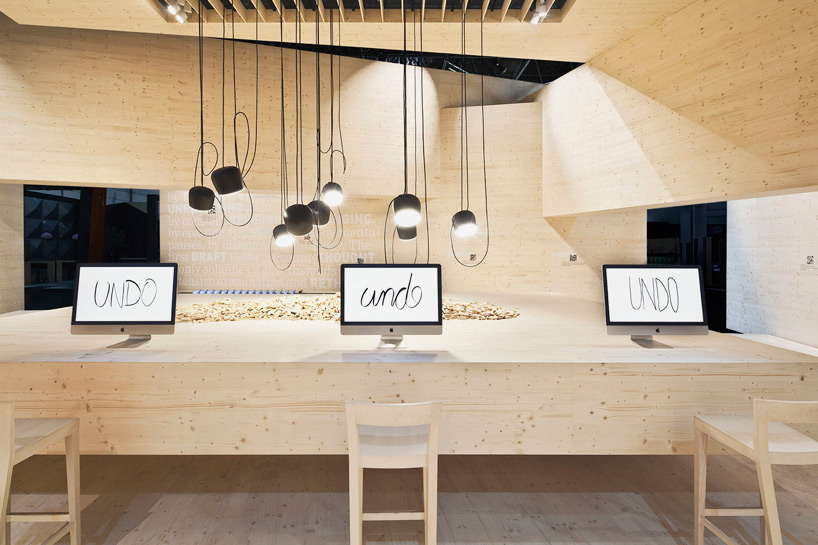 undo by d'art design gruppe (exhibitions / fairs)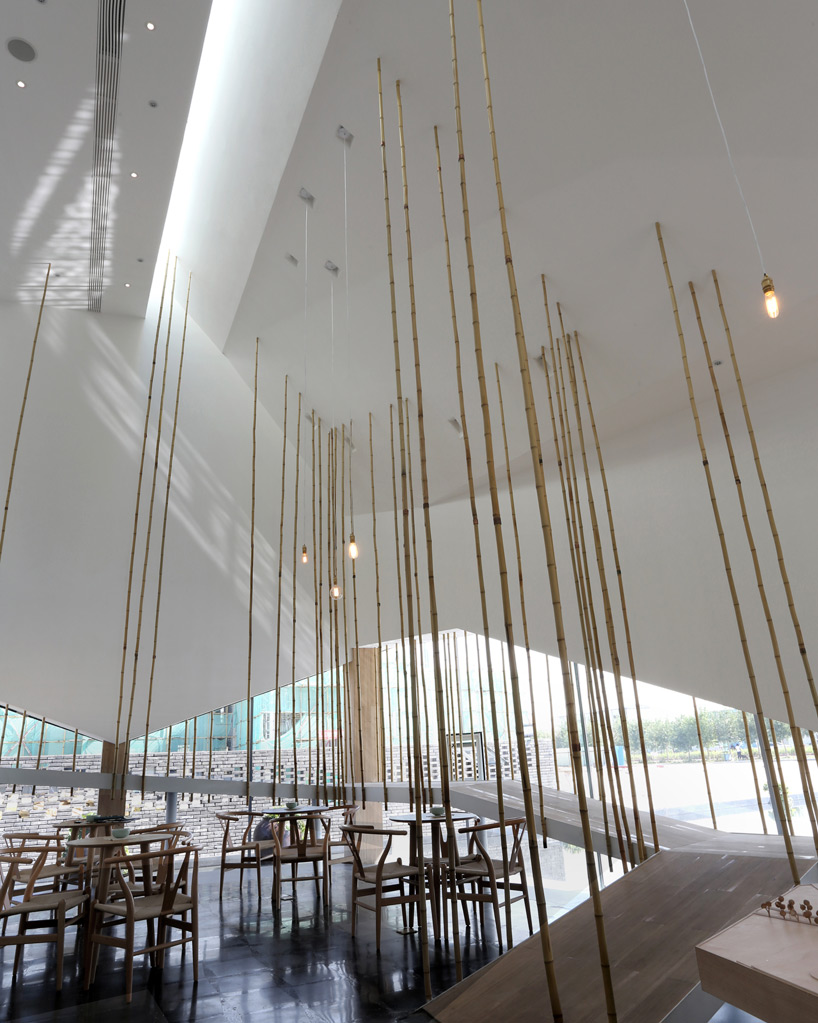 gu yuan specious feeling by deve build (stores / showrooms)
gu yuan specious sentiment by deve build: preface: 'shui long yin'. a garden or not a garden, nobody cares what it is. but I feel the sorrow when it turned into a desert. looking for the garden in my dreams, I wake up only to hear the birds chirping. I couldn't help but miss China's lost culture as it lingers on my mind and soul. now where has the garden gone? only the tears remain. awakened my garden is not a worship or a prostration to the past, but a vague specious expression. while wandering in the garden you may or may not enter the dream i had. it's guyuan.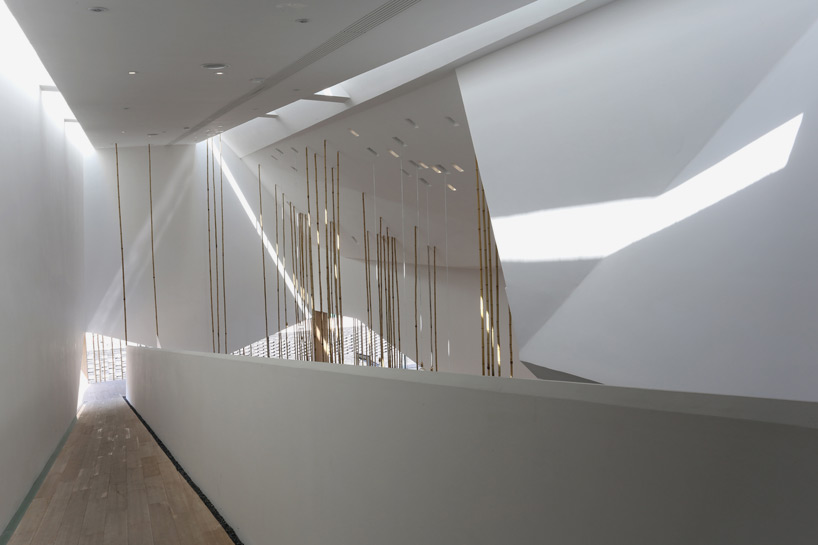 gu yuan specious feeling by deve build (shops / showrooms)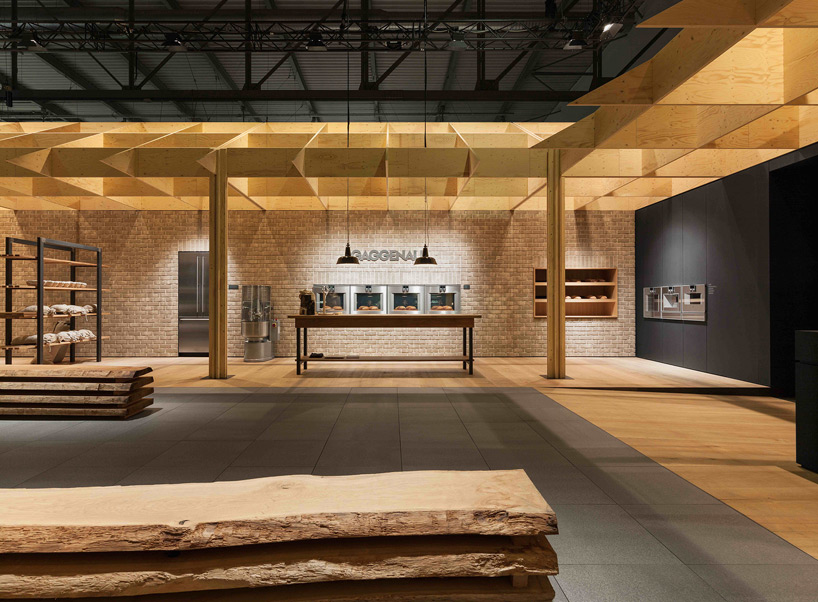 vierkanthof by eins: 33 (exhibitions / fairs)
vierkanthof by eins: 33: esteem for craftsmanship. Closing the trilogy started in 2010 with the "factory concept", this year's stand leads to the origins of culinary culture. gaggenau stands for exclusive culinary culture and sophisticated lifestyle and the return to traditional production methods, linked to a quest for original and natural food, is becoming an important influence. as the format for the stand, a square farm-typology was chosen as a symbol of the combination of agricultural production and craftsmanship. in this context, the gaggenau appliances are presented as tools, integrated into the culinary process, and not as products at the end of the story.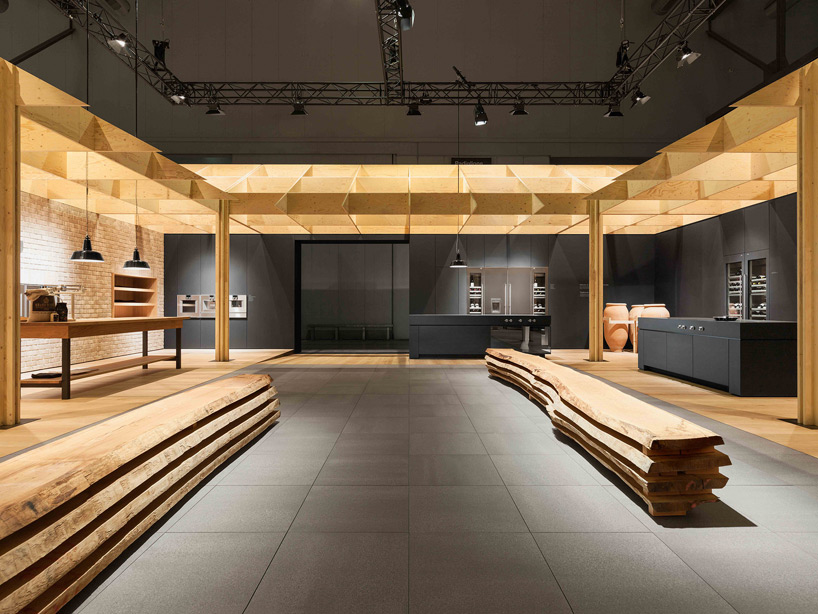 vierkanthof by eins: 33 (exhibitions / fairs)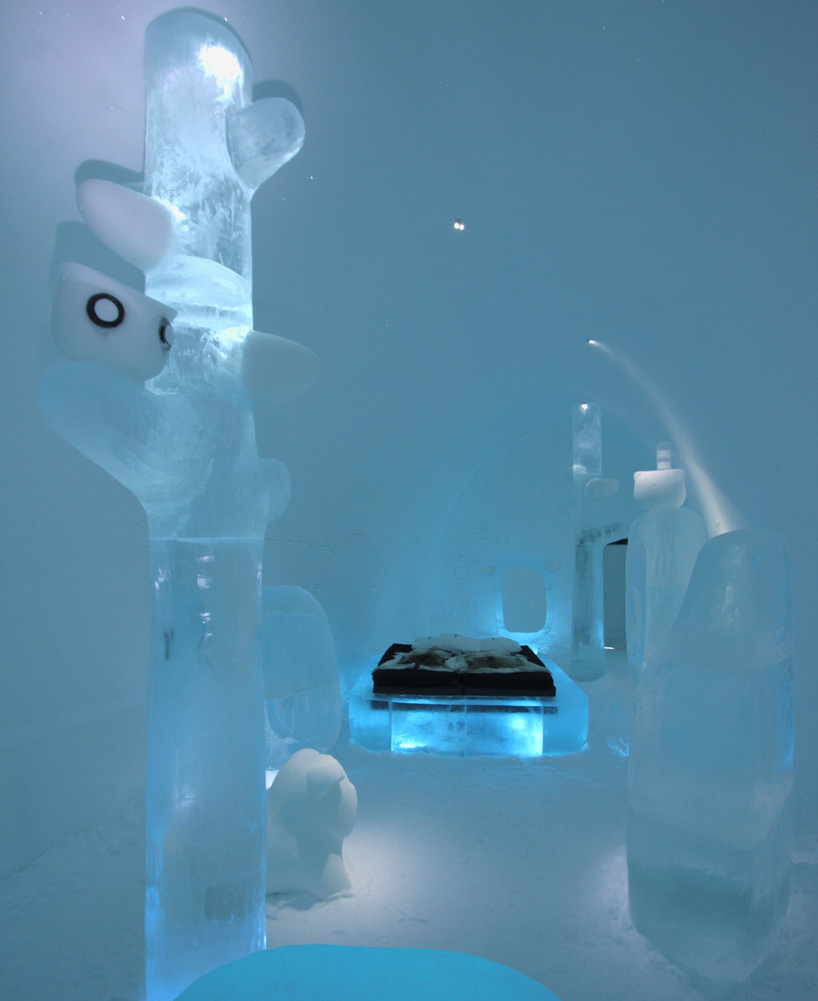 MINI icehotel by BMW group designworks USA (hotels / spas / restaurants / bars)
MINI icehotel by BMW group designworksUSA: commissioned by mini and in collaboration with the icehotel in Lapland, the "mini evolution deluxe hotel suite" was created by designworksUSA. each year, artists are invited to create individual suites of inspiration and art. the hotel is characterized by a state of perpetual transformation, part of a recurring cycle of wakefulness and sleep, departure and arrival, dynamism and tranquility. for the MINI suite designworksUSA was inspired by this natural process that the Ice Hotel undergoes because it is rebuilt every year and melts when nature directs it. the bedroom design concept tells the story of transformation.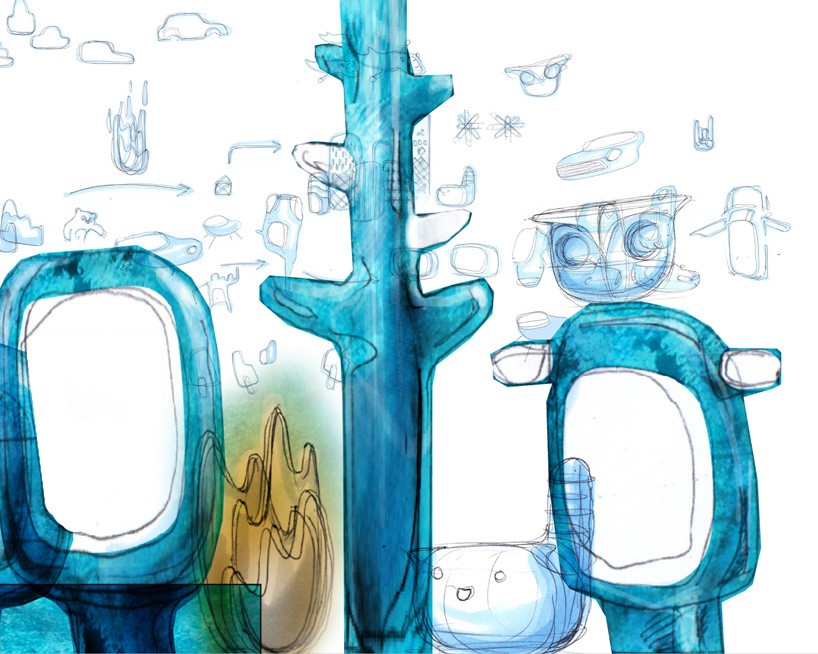 MINI icehotel by BMW group designworks USA (hotels / spas / restaurants / bars)