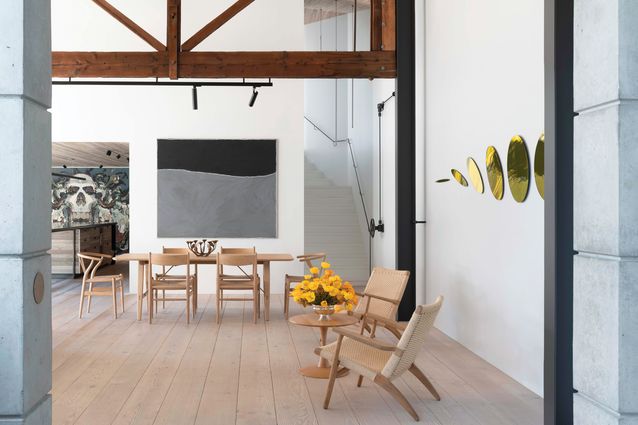 National Architecture Awards 2020: National Interior Architecture Award
Jury quote
In the spirit Of architectural design as a continuum, Virginia Kerridge recalibrated the project of Graham Jahn, winner of the 1999 Robin Boyd Prize for the same client.
The original house had itself been a remodeled lumber store; this latest version was to welcome a new chapter in the customer's life. The alteration – which is regulated by their intimate knowledge of the house over more than two decades of living in this central Sydney location – was made possible by the architect's skill at a sophisticated transformation.
Through intuitive design work between the original home and the new customer orientation, a set of perfectly connected spaces evolved – some being subtle simplifications of the original rooms. As traffic winds around the plan, rising through the levels, each change of direction brings a new vibe, established by a change in finishes and colors. Timber from the founding timber warehouse and concrete from the original house are perfectly paired with a new suite of rolled steel details that remain true to the honesty of the materials.
The result is a container that artfully masks the harshness of the downtown site from the inside, while welcoming the sun, breeze and birdsong. It is an example of sustainability at its best, where a new generation of buildings is designed on an original, with respect and pleasure.
Project credits
Architect Virginie Kerridge architect; Group project Virginia Kerridge, Alejandro Galdo Cora, Alana Peddie, Thomas Wing-Evans; Builder Bellevarde Constructions; Structural engineer SDA structures; Surveyor Brunskill McClenahan and associates; Cost advisor QS Plus; Photographer Nicolas Watt
Grant Pirrie House is located in Surry Hills, New South Wales, on the lands of the Gadigal and Darug peoples of the Eora Nation.
Related topics