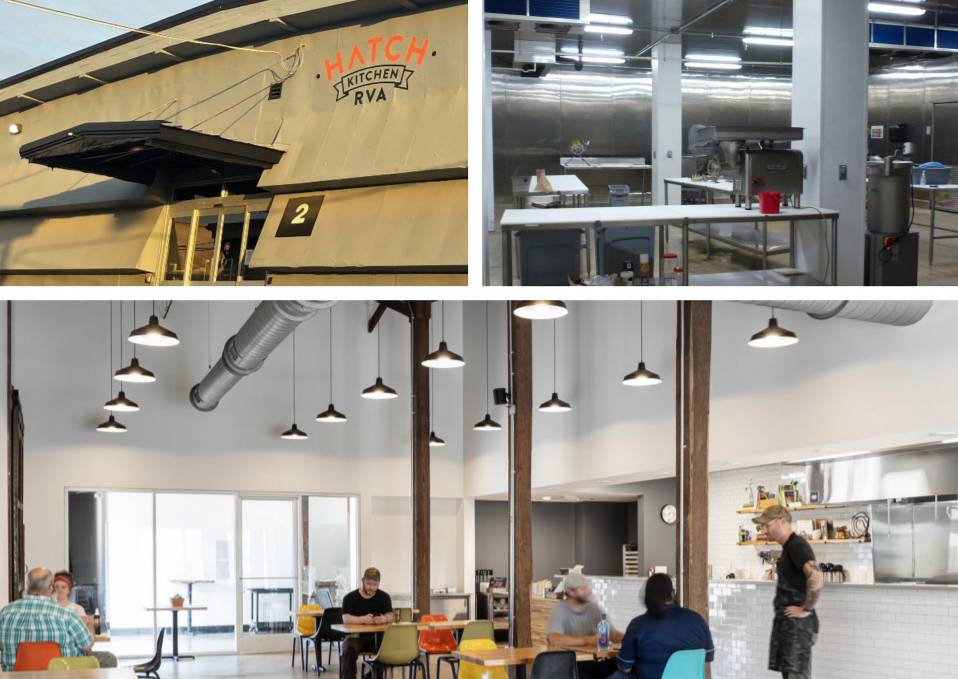 Hatch Kitchen RVA wins GRACRE and Golden Hammer awards
A food and beverage incubator in the South Richmond neighborhood was among the main winners of two recent awards ceremonies recognizing outstanding real estate projects in the area.
Hatch Kitchen RVA at Clopton Siteworks has won trophies at the annual Greater Richmond Association for Commercial Real Estate Awards and Golden Hammer Awards from the nonprofits Historic Richmond and Storefront for Community Design.
The three-building Hatch campus includes a collaborative commercial kitchen, private commercial kitchens, a 125-seat café, and other production and warehousing spaces. It is part of the redevelopment by Lynx Ventures of the former tobacco storage warehouses on Maury and Clopton streets.
The Hatch site part won the incubator award at the 20th annual GRACRE ceremony, as well as one of two golden hammers presented this year in the "best adaptive reuse" category.
He was the only nominee to win awards in both competitions. In addition to Lynx, project team members included Fultz & Singh Architects, Balzer & Associates, ML Bell Construction, and Sadler & Whitehead LLC.
GRACRE's Project of the Year award went to Sheltering Arms Institute, the $ 95 million inpatient rehabilitation hospital developed by Sheltering Arms Hospital and VCU Health in West Creek in Goochland County at 2000 Wilkes Ridge Drive. Hourigan was the general contractor for the project and HDR was the architect.
The other Golden Hammer awarded in the adaptive reuse category went to the second phase of The Cooperage, the Historic Housing apartment conversion of a former tobacco warehouse on Overbrook Road. Team members included SWA Architects, Emerge Construction Group, Sadler & Whitehead and engineering firm Speight, Marshall & Francis.
A total of 12 Gold Hammers were awarded this year, recognizing outstanding preservation and revitalization projects. The other 10 were:
Hybrid pricing for healthy and sustainable workspaces: The Emerald Barn, Dovetail Construction's recently expanded office building adapted from a former cart repair shed at 1620 Brook Road.
Hybrid Award for Urban Trends in Creativity and Collaboration: Arts & Letters Creative Co. office at the Lucky Strike Building Power Plant in Shockoe Bottom.
Best new build: The pair of Urban Hope townhouses on North 21st and W streets in the East End.
Best Placemaking (three laureates): The JXN Project (Enjoli Moon and Sesha Joi Moon, et al.); The Low Line Green (Capital Trees et al.); Church Hill North and Kitchens at Reynolds (Steven Markel et al.).
Best Residential (two winners): 805 Chimborazo Blvd. (Richmond Metropolitan Habitat for Humanity, Obsidian et al.); Villacarillo Residence at 8219 Whittington Drive (Ron Villacarillo and RIC Design Build).
Best catering (two winners): Dr. William Hughes House at 508 St. James St. (Johannas Design Group, L&Z Historic et al.); Masons 'Hall at 1807 E. Franklin St. (Richmond Randolph Lodge No. 19 and Masons' Hall 1785, Historic Richmond et al.).
Descriptions and photos of the winning projects and all other Golden Hammer nominees are available here.
Among the other winners of the GRACRE prize:
Affordable Housing Project: The Mirage – Conversion of apartments from the former Caritas furniture bank in Manchester by Crescent Development and Spy Rock Real Estate. The 139-unit project was previously called Spa Lofts.
Community impact project: The Caritas Center – $ 28 million conversion of a former Philip Morris complex at 2220 Stockton St. KBS was the general contractor, Walter Parks Architects was the designer, and Flourish Space was the interior designer.
Industrial project: Willis Commerce Center – 405,000 square foot distribution center by Scannell Properties between the PepsiCo facility and the General Electric manufacturing plant on Willis Road.
Institutional project: VCU College of Engineering Engineering Research Building – $ 93 million building at the northeast corner of Cary and Belvidere streets. Project team members included Kjellstrom + Lee Construction, Baskervill, Goody Clancy and Smith + McClane.
Large-scale mixed-use project: City View Marketplace – Development of Thalhimer Realty Partners at 609 Hull Street, as part of its larger City View Landing redevelopment of the former Reynolds South factory in Manchester.
Medium-sized mixed-use project: Hill Standard – Mixed-use project from developers Charles Bice and Birck Turnbull with 16 apartments and commercial tenants such as Blanchard's Coffee Roasting Co. and The Veil Brewing Co. Corinthian Construction was the contractor and Fultz & Singh Architects was the designer.
Multifamily project: The Summit – mixed-use development with 166 apartments by SNP Properties at 3022 W. Broad St. Walter Parks Architects designed the project.
Office transformation: The James Center atrium renovation – part of the James Center redevelopment at 901, 1021 and 1051 E. Cary St. Baskervill designed the project, and Hourigan was the contractor.
New office project: Kinsale Insurance Co. Headquarters Building – 150,000 square foot building in the Westwood neighborhood of Henrico. Entrepreneur: Hourigan; architect: Baskerville.
New coworking office: Gather Midlothian – The fourth office in the Richmond-area coworking chain at 14321 Winterbreeze Drive in Winterfield Crossing. Perretz and Young Architects designed the building, EDC was the general contractor, and Hickok Cole was the interior designer.
Restoration project: Renovation of The Pit and The Peel, including a 1,750 square foot rooftop patio on West Main and North Brunswick streets. Fultz & Singh Architects was the designer, ML Bell was the builder, and Balzer & Associates was the engineer.
Retail project: Ukrop covered market – Redevelopment of the old sanctuary building of the Bon Air Baptist church in Henrico.
Industrial sales: 1301 Battery Brooke Parkway – Sale of $ 21.35 million of the Hill Phoenix plant in Chesterfield County. Will Bradley and Mark Williford of Colliers represent the seller.
Multifamily sale: Canopy at Ginter Park Apartments – $ 83.75 million for a 301 unit apartment complex in Northside. Charles Wentworth and Garrison Gore of Colliers' Richmond office closed the deal locally.
Office lease: SimpliSafe – 60,000 square feet in the former Miller & Rhoads building at Willow Lawn. Virginia Economic Development Partnership worked with the Greater Richmond Partnership and Henrico County EDA to secure the project, with assistance from the law firm Hunton Andrews Kurth in the site selection.
Sale of offices: Midtown Office Portfolio – $ 19.2 million for a three-building assembly including One Holland Place and Vistas I and II. Will Bradley and Mark Williford of Colliers International represented Seller Allegiancy in the matter.
Other GRACRE laureates include: East End Health Center (medical practice project); The Connexion at Westcott (multi-family project approval); Ocean Network Express (office renovation); and West Village (sale of land).