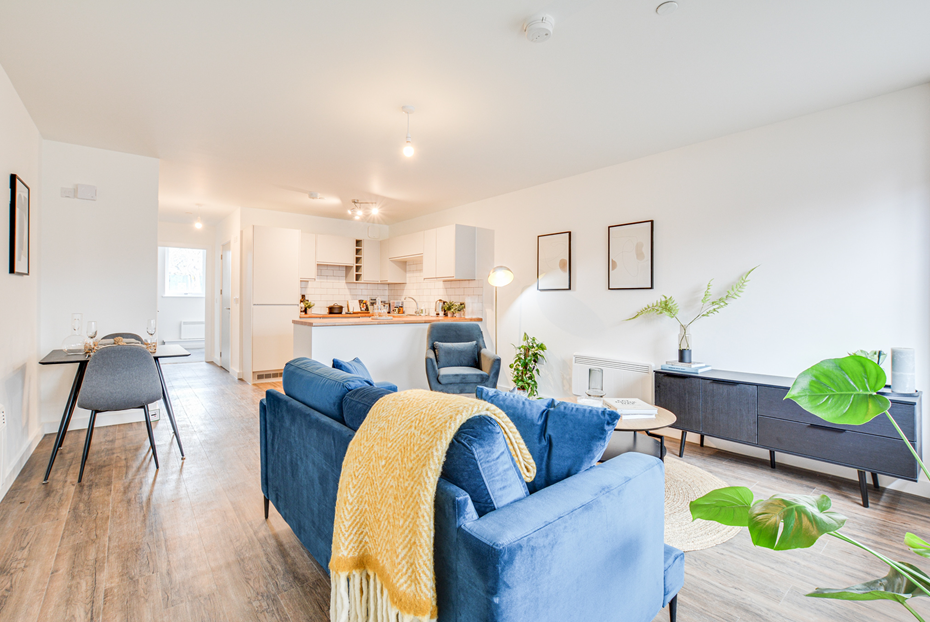 First interior images of £8m build-to-let scheme revealed
Salford-based build-to-let developer Placefirst has revealed the first look at the interiors of its £8million Longsight apartment scheme, which has been named 'Elevate'.
A former job center is being transformed into 53 high-end apartments which should be ready to welcome residents in the spring.
The construction of a new top floor added additional space to the project which involved a total overhaul.
Each apartment has a brand new kitchen and upscale bathroom, wood effect flooring, plush bedroom rugs and large windows allowing for an abundance of natural light. All apartments will be furnished, including velvet sofas, trendy dining furniture and bedroom sets.
Work began on the project in 2021. It will provide a mix of studio, one-, two- and three-bed apartments. The rooftop extension accommodates eight apartments, with views over the Manchester city skyline.
Placefirst worked with Project 3 Architects to reuse and transform the former jobcentre, paying particular attention to sustainability, energy efficiency and modern design.
Ian Chatburn, Director of Guest Experience at Placefirst, said: "We are delighted to reveal the name and first look at the 'Elevate' show apartments. Our vision was to breathe new life into this former employment center – we have created an exciting apartment program with high quality finishes, which our new residents will be proud to call home.