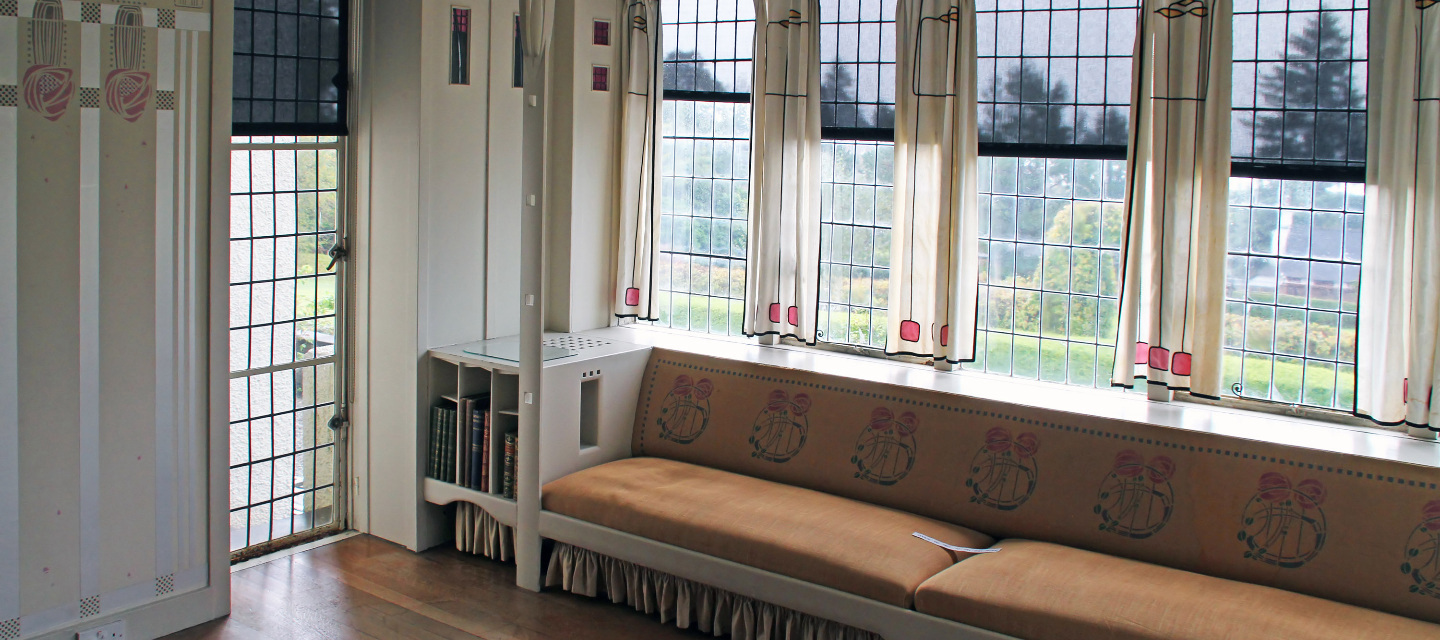 A forgotten house by Charles Rennie Mackintosh emerges from the Scottish mist
From its misty perch overlooking the River Clyde, Hill House appears to be just another of the imposing Scottish stately homes in Glasgow's affluent suburb of Helensburgh. On closer inspection, where one can see the simplified building in Portland cement and the absence of Gothic ornaments, it is clear that this is not just another traditional house. Rather, it is a modernist landmark built by architect Charles Rennie Mackintosh.
Mackintosh is best known today for his elegant high-backed black chairs, but his greatest achievement has been in interior design. Hill House was commissioned by Walter Blackie, a prominent Glasgow publisher, and is one of Mackintosh's few domestic projects, completed in 1904 at the height of Art Nouveau. It has typical elements of the style, namely the expression of organic forms in architectural detail, but Mackintosh also made progress in introducing simple geometries. With these innovative motifs he pushed design towards its modernist future and influenced a wide range of artists, designers and architects, including Gustav Klimt, Walter Gropius and the Bauhaus school and Frank Lloyd Wright.
While Hill House's exterior primarily pays homage to the country's vernacular architecture, the Scottish influence is just one of many here. Mackintosh drew inspiration from disparate sources such as Japanese, monastic, and medieval architecture. These stylistic borrowings did not result in a simple pastiche, but in a surprising and delicate synthesis.
Mackintosh was an author who designed every element of his projects. His residential work was therefore limited as private clients were reluctant to cede complete control. Hill House presents a complete offer of its talents, from wallpaper to carpets to furniture. He even designed the tools for the fireplace. Mackintosh once mildly scolded Mrs Blackie for putting yellow flowers in a vase in the hallway. He thought only purple flowers were suitable.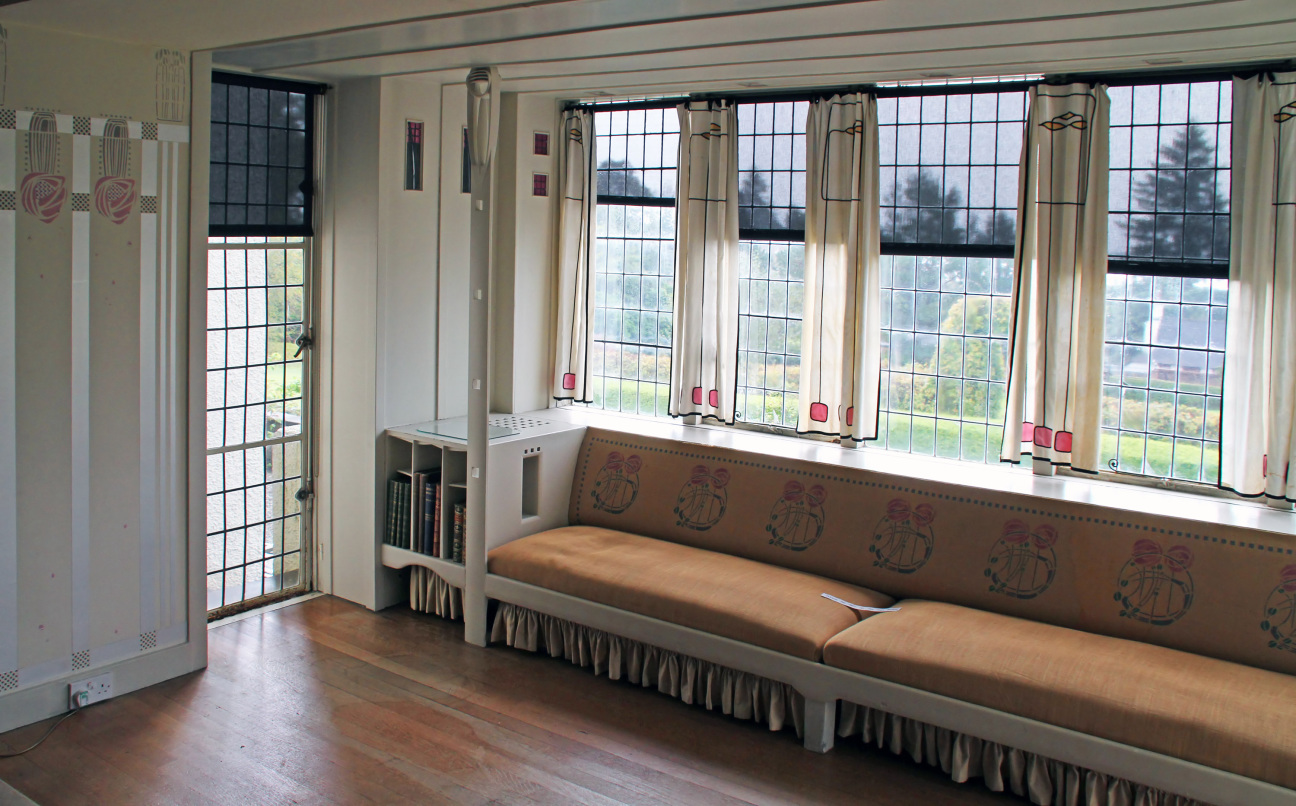 Upon entering the living room, a bay of light enters through the large Shinto-inspired windows and purple stained glass portals. Mackintosh provided the room with generous light to encourage creativity and freedom, according to the documentary A Modern Man (1996), which recorded the architect's life and work. The palette furthers this vibe: light reflects brilliantly off the white interior walls, punctuated with playful accents of silver, purple and pink.
The colors may not seem surprising to the contemporary eye, but they were a stark departure from the heavy, dark Victorian wall treatments that were still dominant at the time of design and construction. The light, even effeminate palette in the backdrop accentuates the impact of the dark, masculine chairs and coffee table in the center of the room. With stark geometric lines and elongated silhouettes in an alluring glossy black, the furniture offers a futuristic look, a quality that has landed it throughout Runne Blader (1982).
The same square geometric pattern in these rooms is reflected in the fireplace, the carpet, the windows, the chairs, the tables and the curtains in the room. It is Mackintosh's signature found in almost all of his projects, including the Willow Tea Room (1903) in Glasgow and the Windy Hill House (1901) in Kilmacolm, Scotland, and which reflects the avant-garde sensibility architect guardian. His contemporaries, European Art Nouveau architects like Hector Guimard and Antoni Gaudi, were still working in organic curvilinear forms, not yet willing to embrace the geometric shapes that were soon to dominate design in the following Art Deco period.
Mackintosh's strong and graceful rectilinear lines are balanced with lyrical and naturalistic accents in illustrations and paintings throughout his work. The fireplace, often the place where the Art Nouveau style is most flamboyantly expressed, is framed by a shimmering silver geometric mosaic with abstract lines and, just above, is a magnificent gesso panel of the artist Margaret Macdonald, wife and close collaborator of Mackintosh. . The painting, famous in itself, depicts a sleeping woman wrapped in vines, resting on a bed of roses.
Throughout Hill House, Mackintosh deals with high contrasts between light and dark; masculinity and femininity; serious and fancy; minimal and simplified shapes and loose and organic shapes. Mackintosh restraint balanced with unruly creativity. He once said, "There is hope in honest error, not in the icy perfections of mere stylist." While there are few mistakes to be found in Hill House, it's clear that Mackintosh was not just a stylist, but an artist defying design conventions with his own vision.
Subscribe to the Cultural newsletter
Of course, we can be close friends. Unfiltered access awaits.